Simplify Interaction Tracking in GA4 with Enhanced Measurement + Insightech
After the news that Google will sunset the current Universal Analytics you may be looking for a replacement. This can appear daunting but it's not.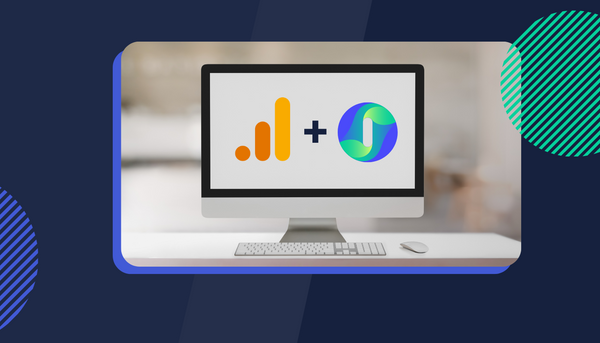 After the news that Google will sunset the current Universal Analytics in mid-2023, you may be looking for a replacement with all the changes that may follow, including interaction tracking across your website. This can appear a daunting task, and this article aims to help simplify the implementation for you.

GA4 includes Enhanced Measurement such as tracking scrolls, outbound clicks and file downloads. These features can be enabled through the GA4 admin interface without code changes. Go to Admin → Data Streams → Web Stream Details → Enhanced Measurement to switch the features on or off.
‍What is Enhanced Measurement?
GA4 Enhanced Measurement allows you to measure high-level interactions with your content without code changes. With these features turned on, GA4 automatically tracks events so that you can see the aggregated data in your reports. The GA4 admin interface also has detailed descriptions of each feature, and you can toggle them on and off individually.
‍Where Does Enhanced Measurement fall short?
GA4 Enhanced Measurement is for high-level measurement only. Some critical information about how visible website content and user behaviour around website interactions is not available in the reports or even tracked.‍
No scrolling depths to help understand content visibility‍
For content analysis, it's essential to know how far users scroll at each part of your page, and what percentage of users scroll to each important content piece, such as call-to-action buttons, promotion banners, and more. GA4 only tracks scrolls to the bottom of a page, which doesn't have the complete data on your website's content to answer questions about customer behaviour on your website.
Not all clicks are tracked‍
GA4 only tracks outbound clicks and file downloads, preventing granular user engagement analysis. To track each click, you will need to deploy code that requires significant maintenance.
Do users navigate to your funnel through mega menus, your landing page or a specific call-to-action link? Are users clicking on non-clickable images because they are confused? For engagement analysis, every interaction point is valuable.
Lack of visualisation
Customer behaviour is typically a response to what your website shows. It becomes difficult to truly understand their engagement with tables and charts because the data is out of context. You will always need the other half of the picture, the designs, to truly understand user engagements. For example, a high bounce rate from your landing page is likely due to design issues. This can be that your call-to-action buttons are below the fold, and have low visibility for spotential customers.
Does Insightech close the gap?
Insightech can be fully integrated with UA and GA4 to explore individual-level user experiences.
Unlike most solutions in the market, Insightech features allow advanced segmentation and filtering to help you understand the engagements of specific groups of users, such as by traffic source, device, and encountering particular error messages, etc.
Insightech helps gain insights into user engagement visually while integrating with GA4 for detailed user experience analysis. This enables further understanding of pain points experienced by customers in your conversion funnels and why these are blocking users from converting. These pain points are diagnosed with Insightech's Click Maps and Scrolling Heatmaps.
Click Map Reports
These reports are a simple way to get insights into user interactions for engagement analysis without the implementation effort. Click Maps show all the user click interactions aggregated before overlaying the data on the web page design to help you quickly understand what is the most clicked content, how many conversions and how much revenue these interactions drive.
Scrolling Heatmaps
Scrolling Heatmaps is an effective tool for analysing how visible the content is on your website content visibility analysis. This feature shows the percentage of users that scroll to each point of your pages so that you can easily see the importance of customer visibility for call-to-action links, promotion banners, and other important information.
‍To learn more about how you can use Insightech to gain insights into user engagements, talk to us.