Trends
Uncovering the Solution: Your Guide to Detecting Rage Clicks in Insurance and Financial Services
As a digital product owner in the insurance and financial services industry, you're well-acquainted with rage clicks, but do you know the tools that can help you spot and address them effectively?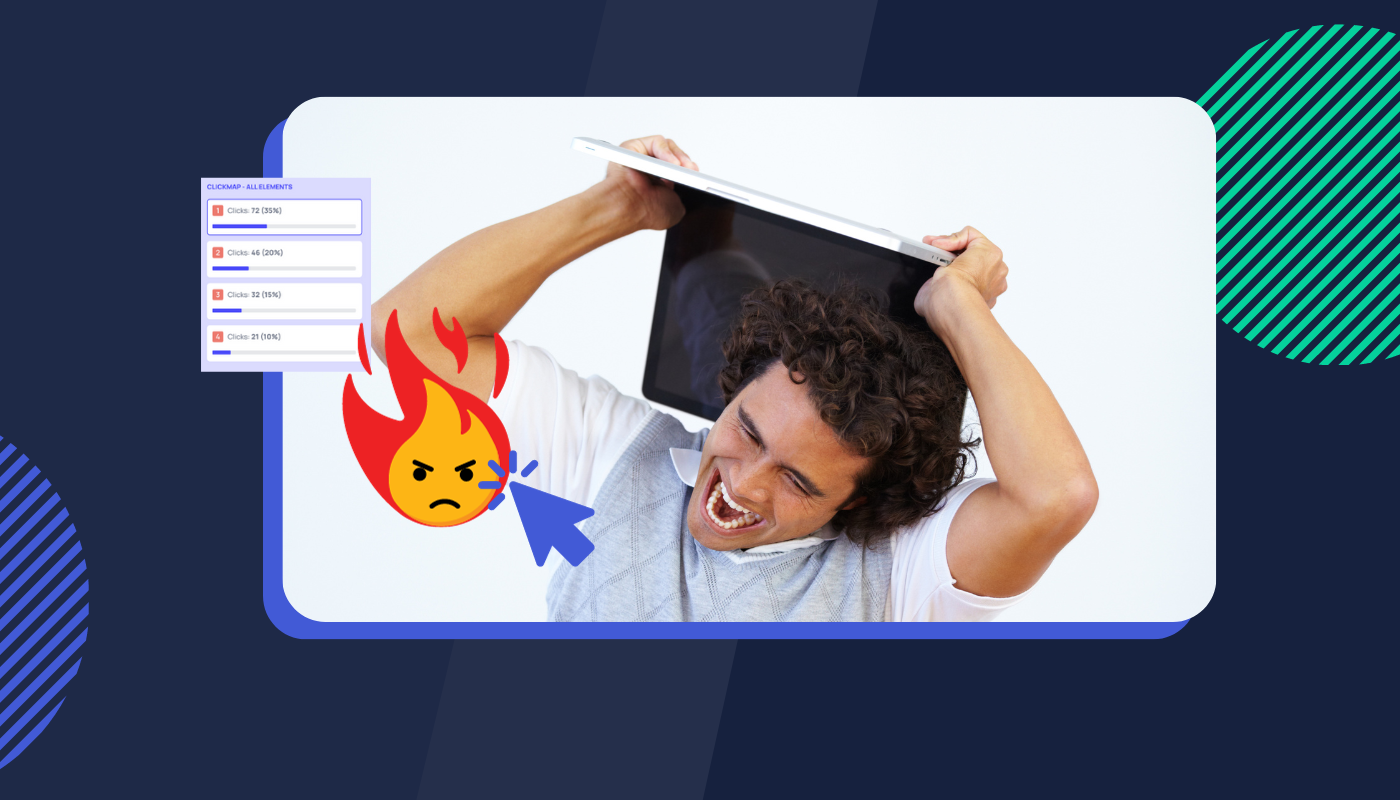 You're a digital product owner in the insurance and financial services sector, and you've probably heard of the term "rage clicks" before. You're aware of the frustration users experience when something on your website doesn't work as intended, but you might be wondering, "What can I do about it?" Well, you're not alone. Many in the industry have been aware of this issue but are unsure about the tools that can help us tackle it head-on.
Understanding the Impact of Rage Clicks
Before we dive into the solutions, let's remind ourselves of the impact that rage clicks can have. In an industry where trust and reliability are paramount, unresolved user frustrations can lead to:
Abandoned Transactions: A complicated or unresponsive Quote and Buy process can result in form abandonment.
Eroded Trust: In the insurance and financial services world, even a minor glitch during an account login or a transaction can shake the foundations of trust and the same trust issues can arise when a new user is trying to progress through digital forms on your website.
Reduced Call Deflection: Frustrated users often reach out for help, leading to an increase in support ticket volume and customer service costs. Resolving user problems can be expensive, and finding a more cost-effective long-term solution answer to this problem is crucial.
Solutions to these common challenges
Now that we understand the problem, let's explore the solutions. As a digital product owner, you want tools that can provide you with actionable insights into user behaviour and help you address rage clicks effectively. Here's where products like Insightech come into play.
Insightech offers a comprehensive solution for detecting and resolving rage clicks and other user experience issues. It goes beyond just identifying the problem – it also provides practical remedies for the underlying issues. With Insightech, you can:
Get Real-Time Analytics: Gain access to real-time analytics that pinpoint problematic areas on your website. This information allows you to streamline the user journey and reduce cart abandonment.
Foster Trust: In the world of financial services, trust is everything. By addressing user frustrations promptly, you can maintain and even enhance the trust your users have in your brand.
Cut Support Costs: Minimize support ticket volume and customer service costs by proactively improving the user experience. It's a win-win situation for both your users and your budget.
Don't Let Rage Clicks Go Unnoticed
As a digital product owner, you can't afford to ignore the impact of rage clicks. They not only affect your bottom line but also your brand's reputation. It's time to take action and start using tools like Insightech to identify, analyse, and resolve these issues.
So, if you've been aware of rage clicks but didn't know where to turn for a solution, now you do. Our team is available to answer your questions here.