Top 20 Reasons Bad Website Experience Hurts Your Conversion Rate and Revenue
For example, did you know your Facebook ads ROAS could improve by 1106% week-on-week just by optimising the user experience side?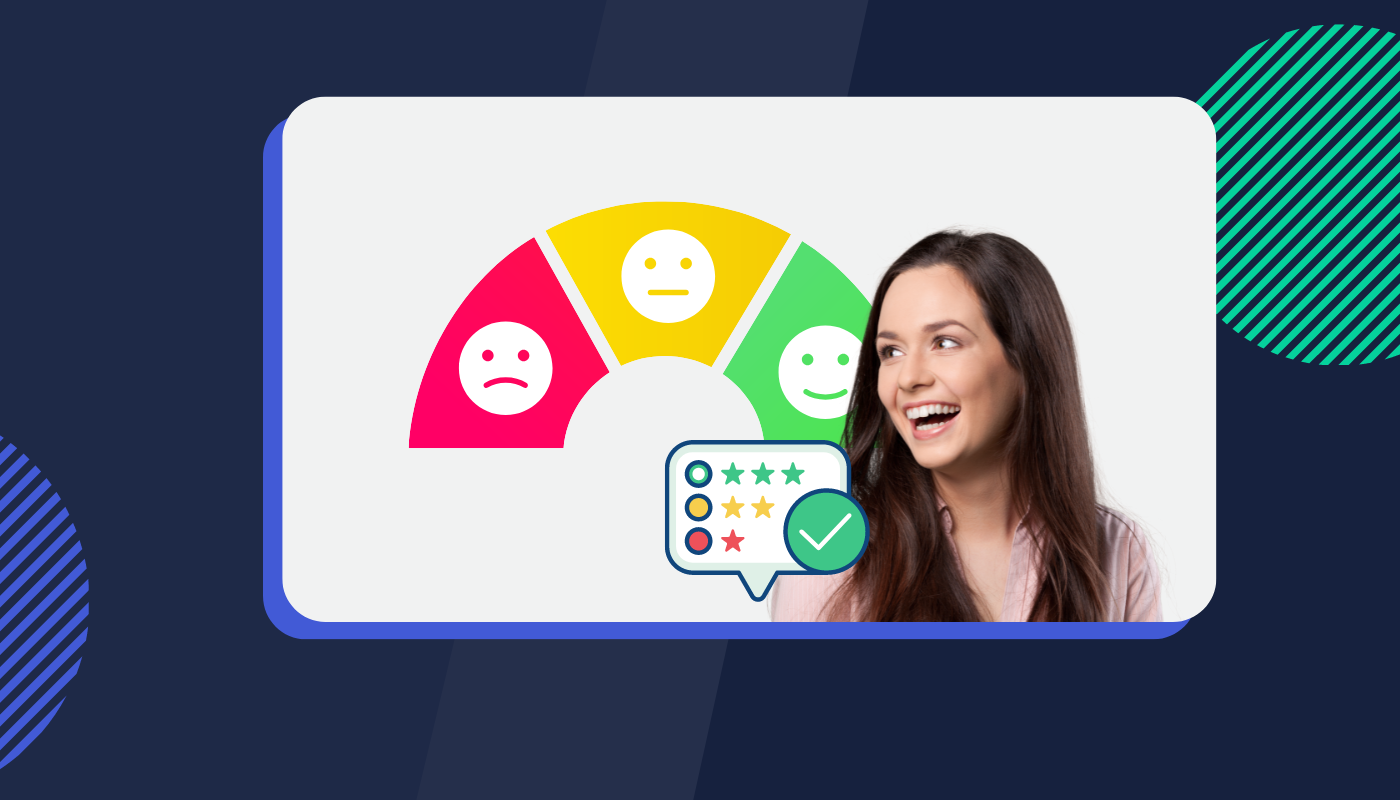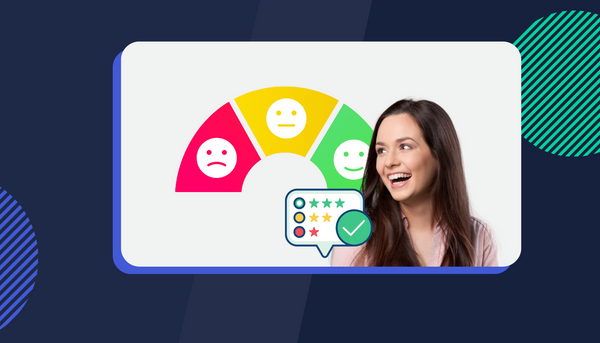 Your consumers are more discerning than ever. Your e-commerce customers are no longer just looking for products; they are seeking seamless, intuitive, and delightful experiences. They expect websites to be not just functional, but also fast, convenient, and above all, user-friendly. Meeting or even surpassing these expectations isn't just a nice-to-have—it's essential for business success.
For example, did you know your Facebook ads ROAS could improve by 1106% week-on-week just by optimising the user experience side?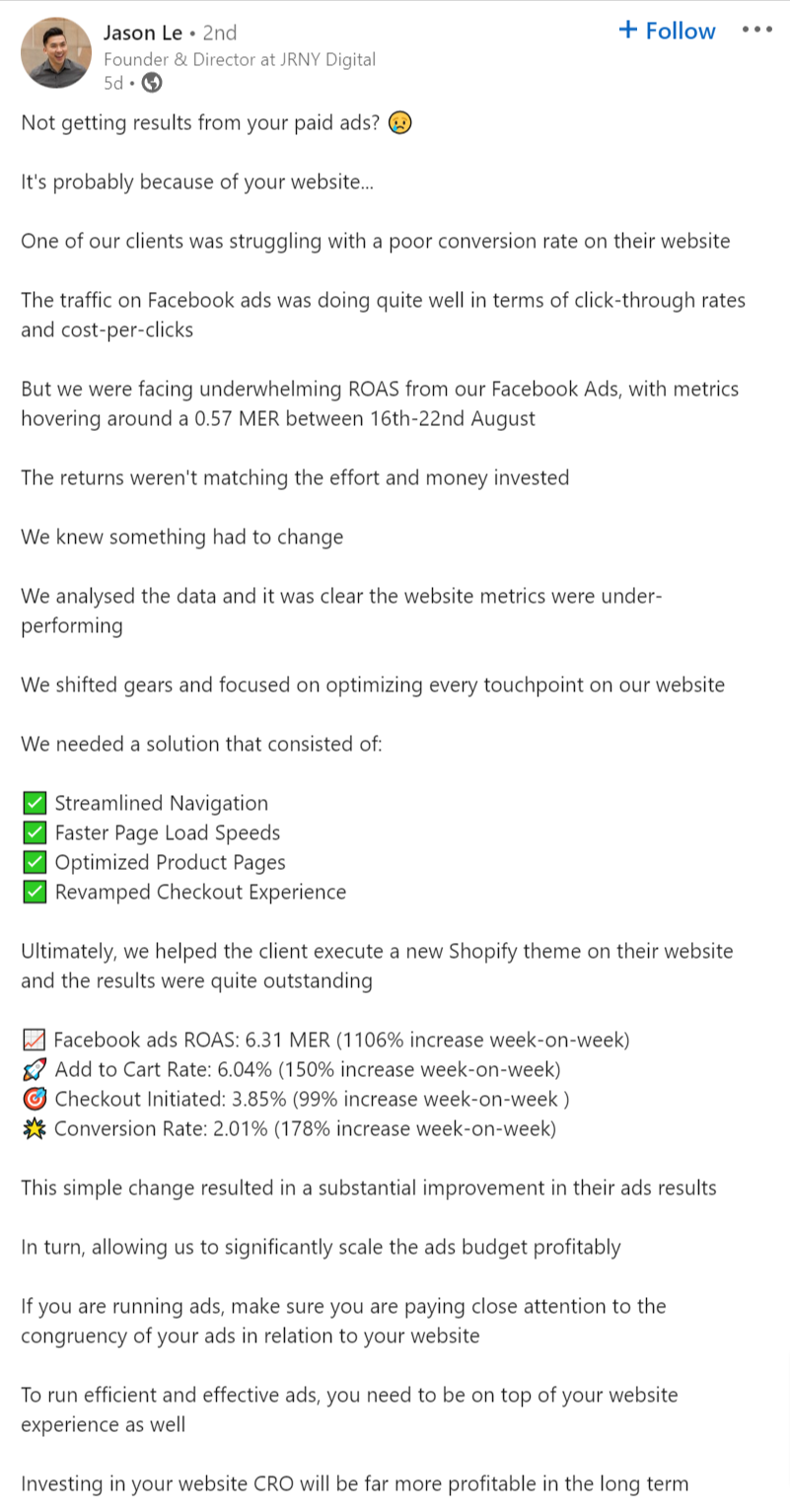 By delivering a better website experience for users who do click through to your website from performance marketing campaigns, your business can unlock the opportunity to not only retain but also acquire new customers, thus staying ahead of the competition.
If 1106% ROAS or a 178% conversion rate improvement aren't convincing enough for you then here are some more compelling reasons we've learned along the way:
Loading Time: 40% of users will abandon a site if it takes more than three seconds to load.
Mobile Unfriendliness: Users are 5x more likely to abandon a site that isn't mobile-optimised.
First Impressions Matter: 32% of customers might leave even their favourite brands after one bad experience.
Image Loading Issues: 39% of users will stop engaging if images don't load or take too long.
App Performance: 90% quit using an app due to its poor performance.
Word of Mouth: 13% of customers will tell at least 15 people about a bad experience on your site.
Silent Disapproval: 91% of unhappy customers will leave without providing feedback.
Unmet Expectations: Only 1% of users feel that e-commerce websites meet their expectations every time.
Repeat Visits: 88% of users are less likely to return after a single bad experience.
Hidden Costs in Cart: 48% of users leave because of unexpected extra costs, like shipping or taxes, during checkout.
Mandatory Account Creation: 24% abandon checkout because they're forced to create an account.
Delivery Concerns: 22% abandon their cart because of slow delivery times.
Security Concerns: 18% won't make a purchase if they don't trust the site with their credit card information.
Overcomplicated Checkout: 17% think the checkout process is too intricate or lengthy, leading to abandonment.
Transparency Issues: 16% of users want to see the total order cost before starting checkout.
Site Errors: 13% leave due to a website crash or error.
Return Policy Issues: 12% abandon their cart if they're unsatisfied with the return policy.
Limited Payment Options: 9% don't complete the purchase because there aren't enough payment methods.
Poor Mobile Experience: 95% of mobile sites have distracting ads, and 66% have problematic tappable elements.
Homepage Barriers: 59% of websites use distracting pop-ups or ads on the homepage, and 75% misuse image carousels, impacting user experience.
The growing emphasis on user experience is not just a fleeting trend. As evidence, an increasing number of top-level executives, especially those in the C-suite, are acknowledging the pivotal role of UX. The striking 18% rise in 2019 in enterprise CEOs who view user experience as a crucial competitive edge is a testament to this.
Recognising the value of UX is just the start. To truly optimise website experience and consequently boost conversion rates, businesses need the right tools in place. Welcome to the exciting new world of experience analytics!
What can experience analytics provide you I hear? Well for starters you get a much more comprehensive view of how users interact with a website, pinpointing areas of friction and highlighting opportunities for conversion rate optimisation (CRO). By leveraging experience analytics, businesses can make data-driven decisions, ensuring that their website not only meets but exceeds user expectations.
In essence, while a top-notch website experience is undeniably crucial for conversion rate success, the real magic lies in continuously measuring, analysing, and optimising this experience. This is something Insightech and other experience analytics products can help you with. Reach out to us to learn how you could get started without paying through the nose.
The future belongs to those who invest in understanding their users, and experience analytics is the key to unlocking that future!
Next steps to learn more about Insightech for Experience Analytics‍‍
Not ready to explore tools just yet? No worries, we have additional educational resources to help with your decision making!